Can I start off first by saying I love Dakota Fanning? Ever since she was little I adored her and now as she matures and I see her in roles like
The Runaways
I'm like GAHH she's going to grow into such a talented actress and a beauty at that, too. A few times I have been told I kind of look like her in random instances - once by a relative who saw a younger picture of me and a few times by a few people right off YouTube. Whatever the reason, it was always flattering because as you thoroughly know this far into my blog post, I love her.
Umm can I be this awesome too?

So you can understand why I'd want to do this recreational look and be similar to one of her roles for at least once in my lifetime!

One of my most favorite themes or twists in stories or personalities are innocent looking, cute little girls who hold demonly power. Alessa from

Silent Hill

, Samara from

The Ring

or even that hologram girl from

Resident Evil

. Ah yes, creepy stuff like that. Did I tell you it was/still is? my childhood dream to join the "creepy little girls from movies" club? I created that name just so you know ... I always wanted to be someone they'd look up on Google and say "Wait, what? She looks so ... normal! THAT is ___?" and compare me to my alter-ego little girl creepy role. Well now that I'm 20 years old that dream is long past due BUT ANYWAY now you can kind of understand what these themed makeup tutorials do for me ha ha ha...

Hm I shouldn't write these posts at 1 in the morning I ramble a lot.

Jane is one of the

Volturi guard

, an elite authoritative group in the vampire world. Though young, she is used for her ability to simply look at someone and cause a burning sensation of excruciating pain. This is why her eyes may seem just a little bit more red and a bit more intense than the others. Her composure is very quiet and almost stern but with an almost sadistic, controlled nature concealed within. Her most famous line is very likely, "This may hurt just a little."

You will hear her say this at the end of the

New Moon

movie trailer at about 2:17




Basically ... Jane loves to keep the law and torture people. She believes that if you aren't doing what you were "born" to do (in this case vampires should be you know, drinking human blood from live humans) then you should be exterminated.

NOW, let us talk makeup!

Now that you know about why I'd be interested in looking like her and a lot more about her character ...

Skin

-

- I don't think there's been any vampire that wasn't paler than a regular human. Well ... except for that extremely seductive African American vampire that popped out of no where in New Moon.
HELLO GORGEOUS!
Uhh. So anyway, unless you are of very deep olive or brown skintone, paling yourself out will look ideal. I say this because, if you pale your face only and the rest of your body and hands and neck are a very deep darker color, it's a lot harder to pull off than people who are already either slightly pale or just neutral colored. Take the Queen of the Damned for example ... definitely didn't need any paling out because her skin can be amazing and dark and vampirish in its own way! What is that guy doing behind her though?
Bottom line -- don't think that you always need to pale your face out to do the look "right." If it's just for a full face picture, that's always fine but if you're going out in full body costume think these things out. I say this because not many people (including myself) are willing to spend all the time and makeup painting full body and dealing with it all night!
Back to dear Jane ...
Like said, though powerful and a bit crazy -- she keeps herself very composed as if she knows she's always in control. She definitely doesn't like it when she realizes her powers can't affect someone. This is why I think a very bold and intense but "contained"
smokey eye
is perfect for her. I don't know if this makes sense but I think a lot of girls (or guys) perceive smokey eye and it goes all over the place, New Year's party style. But her's is just ... contained. Neat, almost. See what I mean?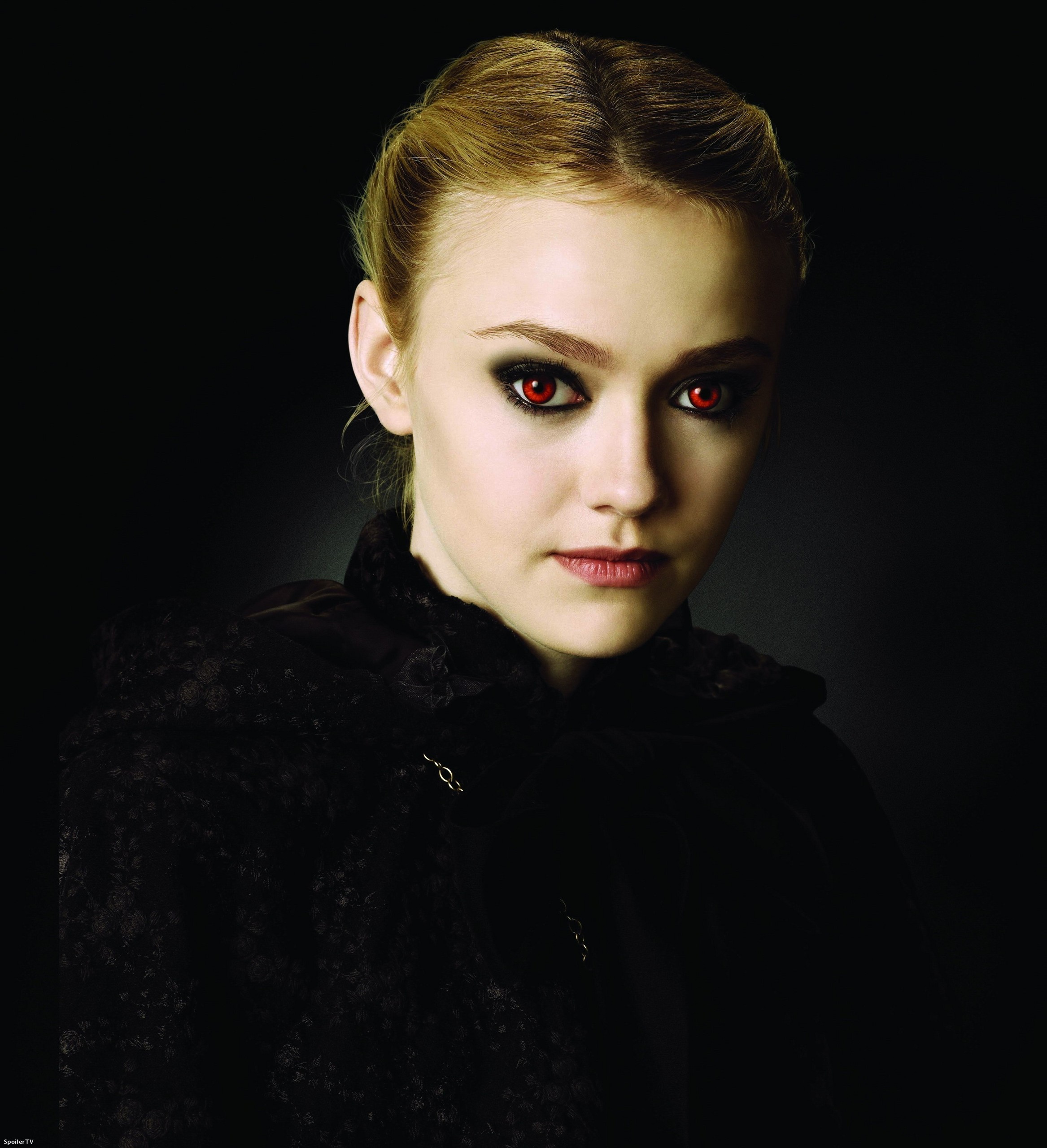 As for
eyebrows
- very basic but definitely keep it structured and neat. Her eyebrows look quite natural here but in terms of makeup, after paling out your face, your eyebrows tend to get washed out so it's a good idea to fill them in, but not too much!! To keep her childlike composure you definitely want to stay way from eyebrows that look drawn on. Remember, children generally have thick shapely eyebrows ... only us crazy women have thin ones when we so choose to pluck them like bored chickens. Like me.
Contouring
-- definitely work the contouring heavily to recede the hollows of your cheeks and heighten those cheekbones. Whenever paling out of your face or changing the entire color of your face, it's very beneficial in terms of realism to contour (and highlight) to bring back the 3-dimensional aspect of your face. Because she's a vampire, you definitely want to emphasize on the rigidness of her bone structure.
I love that her
lips
aren't blood red colored. Yes, yes that can be a very desirable and sexy look on the given occasion but her matte mauve-ish rose touch just seems so ... elegant. It definitely keeps the focus on the piercing eyemakeup but compliments the entire face all the same. This also in a way helps preserve the "innocent child" part of her demeanor with a coat of maturity. Gosh, my word choice tonight. Hopefully you're all still with me!
While this blog post is quite long, her look is extremely simple -- the simplest of all my Halloween looks this year in fact. I just love going into the itty bitty details, that's all :)
If you want to read more into Jane and the Twilight Saga plot, I shall now shamelessly redirect you to the wikipedia page for it
here
.
And now for your convenience, the list of what I used and some pictures for your enjoyment!
== FACE & BASE
* OLAY Complete Moisturizer
* Kryolan Ultrafoundation "Pale"
* NYC Smooth Skin "Translucent Loose Face Powder)
== EYES & BROWS
* Benefit "Stay Don't Stray" Eyelid Primer
* Smashbox Wish Me A Perfect Palette
- matte browns, grays & black
* Coastal Scents 42 Color Double Stack
- black matte shadow
* Benefit "Bad Gal" Mascara
* Maybelline Unstoppable Eyeliner in ONYX
== LIPS
* Revlon ColorStay in Mauve
* Rose Velvet "10" Lipstick by Revlon
== BRUSHES & TOOLS
* Cosmetic Wedge
* Lash Curler
* Sephora Professionel "Airbrush Brush" 10 Poudre
* Blush Brush by Kirkland
* Brow Brush
* Rounded Crease Brush
* e.l.f. Small Angled Brush
* Smasbox Tapered Shadow Brush
* Smashbox Travel Definer Brush
I hope you enjoy my short makeup tutorial on recreating Jane's lovely look! And my intent is that this blog entry, as rambly as it was, gave you some insight onto my interest in her character and how each aspect of the makeup contributes to her persona in my opinion.
Enjoy!
- Audie <3