Official Pretty Little Liars Promotional Poster
My Pretty Little Liars Photoshoot (2010)
I don't obsess over new shows very often -- in fact, rarely at all! But when I do get into shows, it becomes a bit of a religion to watch every single episode. So far, I've done this with Avatar: The Last Airbender and Pretty Little Liars. (Notice I have made makeup looks based on both!)
I'm really excited to start this makeup series because I really connect with this show and as many of you may relate, it's one of those types of stories where I can just sit back, watch and forget about my own problems for a little while (except for when parts of my life seem to pop up all over the show) I've burst into tears unexpectedly while watching the show at least 3 times within Season 1 and 2!
Anyway, I wanted to start simple and so naturally, Emily Fields came first. Yes, we can all agree her and I are both dun-dun surprise: Asian so there's one starking similarity :P But I really admire her amazingly resilient strength of character despite her sweet surface. And I love that the show showcases what many girls may be going through -- coping with accepting their sexual orientations and finding a way to be accepted by their parents and peers as well, despite traditional views.
So enough about the show and more about the makeup! Emily is athletic, studious and dresses casually with some subtle elegant twists at times. So her makeup is never too dramatic. It always appears youthful, simple and fresh. This is why I find it perfect for casual school days whether you're in highschool, college or even middle school. Or, a day in the office or at your day job. That's how versatile I find it.
Her hair seems low maintenance with a gentle wave to it. I imagine some of the lucky girls out there are able to wake up and put some serum or bedhead product and it turns up like this!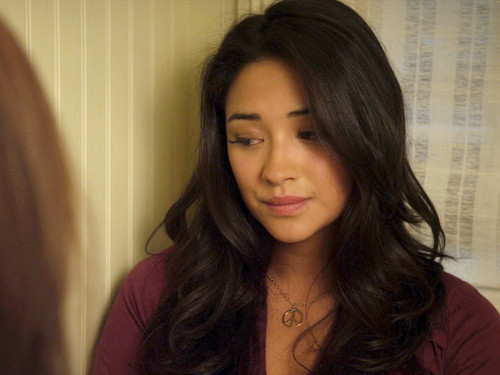 Now, here's my rendition of her:
(Remember, I almost always list what I use in the bottom bar on every video I make!)
FACE & BASE
* OLAY Complete Moisturizer
* Kryolan Ultrafoundation
EYES & BROWS
* NYX Dark Brown Pencil
* Smashbox Wish For the Perfect Palette
* ULTA Black Liquid Liner
* Claire's 48 Shimmering Eyeshadow Palette
* LashGrip Adhesive
* Wispy False Lashes
* the Colossal Mascara
* MAKEUP FOREVER Eyeliner in AquaEyes in 14L (White)
* Maybelline Unstoppable Eyeliner in ONYX
BRONZE & BLUSH
* "01 Foxy Bronze" bronzer by Flirt! Cosmetics
* Loreal Bare Naturale blush in "492 Bare Honey"
LIPS
* Revlon ColorStay Lipliner in "Mauve"
* Revlon Creme Lipstick in "10 Rose Velvet"
* nude pink gloss from Smashbox Palette (*listed under Eyes & Brows)
And for those interested/haven't seen yet ~ here's a link to the photos from my Pretty Little Liars inspired photoshoot that I hosted last Summer in 2010.
Photo Album:
Click Here
And, the Behind the Scenes Photoshoot Video!
And of course ... the makeup tutorial for Emily:
Which Pretty Little Liar (or, other characters from the show) inspired looks would you like to see next?
-Audie