Before Wicked the novel (then musical) became a hit, most of us all knew Elphaba as a mean, unforgiving and well, evil witch. A creature with a cackling voice and an uneasy presence.
Wicked changed all of that.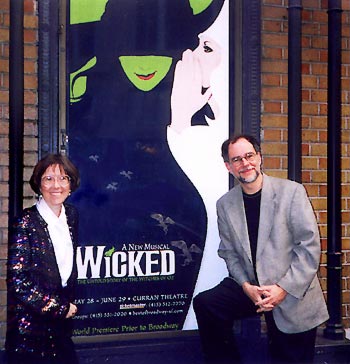 Gregory Maguire & Carol de Giere at Curran Theatre for the pre-Broadway Wicked premiere
In
Wicked: The Life & Times of the Wicked Witch of the West
he tells the story of the Wizard of Oz from the perspective of Elphaba. The story was made into a big hit on Broadway: Wicked. The musical puts the "Wicked Witch of the West" into a completely different light -- one that instantly makes her so lovable and understandable and also heartbreaking to her audience. If you ever have a chance to see it, I definitely recommend it. It's quite possibly my most favorite and adored musical that I've ever seen. I used to listen to the soundtrack nonstop -- in fact, when I was a freshman in highschool I liked listening to the beginning of "No One Mourns the Wicked" (the opening song in my tutorial and in the actual musical) because the fast notes made me feel like I was running faster during Cross Country practice! xD
Kristen Chenoweth & Idina Menzel during "One Short Day" in Wicked
Wicked is one of those musicals that you see in a theatre and afterwards for a few minutes or days of your life you seriously consider dropping everything to run to the world of theatre and trying to make it on Broadway, just so you can sing your heart out and be lifted into the air on stage with thousands of eyes watching you. Believe it or not, long before I was into film or makeup I thought I'd wanted to land my career in theatre. I wanted to be an actress and I loved musicals but ... it never really kicked off for me in my younger days so I suppose the dream kind of wittled down and came back in a different form. But I tell you this now so you can understand why I seized this opportunity to kind of do a mini-Elphaba glory part in my makeup tutorial :) It's quite possibly the closest I'll ever get, and I'm completely okay with that. Unfortunately I wasn't given a strong, beautiful voice to sing with nor the acting skills, dancing physique & rigor to be on Broadway but I did get some kind of talent in video editing and makeup so ... I'll work with that haha.
Elphaba raising up at the end of "Defying Gravity"
Elphaba is just so lovable, so relatable to. Her song "The Wizard and I" talk about her dreams and aspirations and how someday soon, something she's working so hard for will someday pay off. Someday people will understand her. Who can't relate to that? "Defying Gravity" is a song that's made me cry, especially when you see her raise up into the air on stage. It's about her breaking out of the norm, breaking out of the labels and chains people have put on her and seizing the chance to become her own person and fly despite what people say about her or believe about her. It's breathtaking and exuberant and for a second makes me believe in magic or something I don't know, it's so wonderful. It gives me the equivalent feeling of seeing Fantasmic! at Disneyland.
So. Now that you know a lot more about the musical that this character came from and my experiences with it and how much I love it ... let us talk ... makeup!
I believe in the actual Broadway backstage they use MAC products to paint the actress that plays Elphaba green BUT I could be wrong. But since I have very little experience with any MAC products and try to stay away from buying excessive amounts of products from them, I did not take that path. I stuck with something I knew and bought a green shade of Kryolan's aquacolor. To be specific it was "Light Green" or "55" if you want to find the exact product. I also bought a darker shade of green with the intention of using it to contour but I realized that it's SO much easier to contour using powder than aquacolor. In my Stage Makeup class the teacher forced us to use aquacolor (wet makeup) to contour and OH BOY was that a hot mess.
So anyway I recommend buying a well pigmented face paint or aquacolor to paint yourself green. This is a lot smoother and faster than doing it the way I did in my Corpse Bride makeup tutorial ... the whole painting your face white then adding blue eyeshadow on top WORKED but ... I only did it that way because those are the only materials I had at the time BUT, if you can, putting the color directly on will almost always be a lot faster, stronger and more even.
Now, I've seen some girls dressed up as Elphaba that chose more limey colors or more kelly green colors and that's up to you. Green isn't meant to be a "natural" color in the first place, per say, but, in my opinion going with a more toned down green will look the most Elphaba-like in terms of the musical. If you want to look more cackly or crazy or more like the witch from the original Wizard of Oz then take your pick. Here are some pigments of green on someone's arm that I don't know to give you some visual:
This is what the aquacolor that I used looks like:
Kryolan's "Light Green/511" Aquacolor
Keep in mind, painting your face green is going to be the most time consuming (and kind of boring part) But it's very important to not rush this part or ... you're going to look crazy. And I know I'm all for being a crazy woman but ... not in that way. So take your time. I recommend using a cosmetic wedge that's a little damp or a foundation brush or both or whatever seems to work without it becoming blotchy and crazy. Just make sure not to drench your tool in water. Lightly damp, not drenched whether it's aquacolor or face paint.
If you decide to use cream/grease paint that's a whole different story. That stuff will take a lot less layers but it'll also smear off and kind of get on everything a lot more than aqucolor or face paint will.
That's why I did my general layer of green in aquacolor then used cream to fill in any spots at the end. MAKEUP FOREVER's Flash Palette is an excellent product with a fitting shade of green but that puny palette is freaking $95 so if you find cream makeup someplace else that sticks all power to you!
If you look closely you can see small differences in each picture.
It's true - in the Broadway version Elphaba is seen with a subtle smokey eye. No shimmery greens anywhere. And you my dear are totally free to do that. I added the green on top because 1) I happen to own that green liquid liner that I try to put to use anytime I can and 2) Because it was different. There are actually a few Elphaba tutorials already online so I wanted to bring something new to the table, yar!
But a traditional smokey eye is actually a lot more elegant and "adultly" so take your pick, depending on how YOU want to look and what you want to try out:
As said in the tutorial - just make sure to apply your eyeliner in a way that it covers up any "pink" or skin colored areas around your eyes, unless you're really good and can cover that all up with green. I used pencil liner, black eyeshadow AND black liquid liner :P
I must say every picture I've seen of an Elphaba with green lips looks completely gorgeous.
I was very tempted to do the same but again my reason was to do something different. The tutorial as titled at the beginning is an inspired look and not a THIS IS EXACTLY HOW THEY DID IT ON BROADWAY BITCHES look haha. And, I have always always always loved the promotional poster of Wicked and on that poster Elphaba has red lips so ... I was honoring that admiration of mine.
It's very crucial to use lip liner if you choose to do red lips though -- especially when you're changing your entire face color. Trust me, it's a worthy investment.
And now, for those interested, the complete and exact list of the makeup materials I used to create the look seen in my video:
And now ... a few pictures of Elphaba from the musical for your enjoyment ...
Ah ... so beautiful. Everything about that musical. I can just hear the music even by seeing these pictures.
This was the picture that really set off my inspiration for the actual makeup ... notice the green eyes and red lips! :)
Here's a video interview with my inspiration, Idina Menzel! And ah, how appropriate, while she's getting into green makeup!
And now, pictures of meh creational look:
One last thing I want to share with you ... in high school when I was in I believe the 12th grade we had an assigment to make a cake sketch to send to "Ace of Cakes" (make-believe) ... so I chose to make a Wicked themed cake. I worked really hard on all layers and aspects of the cake so I hope you enjoy viewing it :) I drew it in pencil then outlined it in black sharpie felt tip pen and colored it in with watercolor pencils.
I tried to tell as much of the story that I could in 3 layers of cake. You can't see it in the picture very well but I have a flimsy golden ribbon wrapped around the cake that says "No Good or Evil ... Just Perspective" referring to what I said about that way earlier in this post.
Anyway, it's been a pleasuring sharing this part of my life with you. I really hope you enjoy my rendition of Elphaba! I hope I did her proud :)