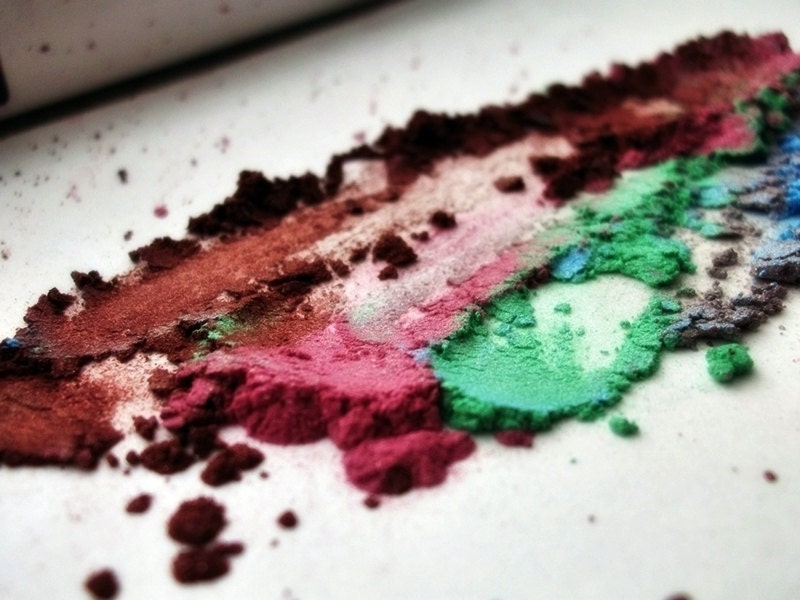 So here's a blogspot product review that I have been meaning to do in FOREVER. How long? I won't even say, it's ridiculous. What I should mention though is that as far as I know, this small business is currently on hiatus and not selling any products .... So, I was a little confused at first on if I should still do a review if their products are currently not being sold. I decided I still should, because these items were sent to me and I promised a review nevertheless :) Hopefully Vandaleyez will come back in business one day.
What is it?
What I'm talking about is
Vandaleyez Eyeshadows
, a small but awesome eyeshadow line created by Lissa. She had a small online shop at
Etsy.com
where she sold pressed and loose mineral eyeshadows. A range of colors, mainly vibrant pastels and bold earthy colors with shimmer. She sent me her special Halloween collection. You know I'm a sucker for Halloween anything but honestly with how pretty and shimmery these colors are, I think they might as well be named after some ethereal fairyland! But as stated, anything Halloween works for me :) I asked for them in the PRESSED form (other option is LOOSE)
This is a picture from her Etsy page:

Some of the colors are a littttle bit different from how they're portrayed in the pictures. But most of them are accurate.
I was sent 9 colors: (these are in order from left to right with the picture below)
1. Grave Digger
2. Goblin
3. Witch's Brew
4. Pumpkin Patch
5. Corpsicle
6. Flesh 'n' Bone
7. Coffin
8. Bitten
9. Midnight Dreary
Note: The top line was applied with Urban Decay's Primer Potion. The bottom line has nothing.
- It's about $5 for one color and there are many eyeshadow collections (the Halloween collection, Christmas collection, Blue Eye collection etc.) you can look through and customize for yourself to get more for less. Shipping costs depends on where you live - it's cheapest for those residing in the U.S. ($2.50) then cheaper for Canada ($3.00) then a little more for anywhere else in the world ($4.00).
So here's what I love ....
1.
The quality is AMAZING.
It's one of those eyeshadows that you can just sweep right on with a finger or brush and it's
smooth
and easy to blend. It's definitely not a 'dry' eyeshadow where it's kind of crusty you know? It's close to creamy but it's easy to work with. I would compare it to
Bare Escentuals
. Plus, Vandaleyez is indeed mineral makeup :)
2. It's long lasting. I have worn Vandaleyez with primer and without and it was definitely still there by the end of the night (makeup was put on in the morning). Of course, it will crease without primer if you're wearing it all night. But with primer it seemed pretty darn sturdy and much more vivid and long-lasting.
3. The pigmentation. All the colors I received will actually show up on your skin. They're vibrant, easy to blend and easy to apply. Simple. I love their iridescent fairy-like feel to it.
What I wish was different ...
1.
The packaging.
They arrived in individual plastic cases with a Halloween sticker on them. While I didn't mind that at first, many of the colors ended up corrupting when dropped or rattled around in my makeup bag (on accident of course) so I was pretty bummed when I would find yet another color with the pigment scattered inside its case. Maybe something with more shock absorbing packaging? Or maybe I need to be less of a klutz! :P I also wish I had maybe ordered the loose form instead, so that corrupted eyeshadows wouldn't even be a problem. Though there is a reason I chose pressed ~ for me that's easier to work with assuming it will not corrupt and break easily.
2. I think a PALETTE with cushy padding for like 6 or more colors would be an AMAZING buy. Like, something with a Tarte-like or Urban Decay packaging. My goodness that would be stellar. I would buy that in a heartbeat.
A few more observations ...
- You can choose if you want LOOSE or PRESSED eyeshadow when you purchase from them. I have only tried the pressed form but I trust that the loose form is just as great.
- It doesn't have a smell.
- With primer it lasts all night --- it'll still be there when you get home. I've tried it!
- Without primer it will last about 5-7 hours before creasing.
My
personal favorites
were
Witch's Brew
&
Grave Digger
:) But the quality and consistency of each eyeshadow was the same.
(left to right) Pumpkin Patch, Witch's Brew, Goblin & Grave Digger
(left to right) Corpsicle, Flesh 'n' Bone, Coffin, Bitten & Midnight Dreary
The packaging ...
My hand is in there for scale :)
Ah yes the Halloween stickers I mentioned ...
Where can I shop for this?
I would also post her website, FB page and Twitter but I honestly am not sure where Lissa is right now and if she's planning on coming back ... but ... here's a link to her Etsy.com shop page! Though unfortunately as far as I know, nothing can be purchased right now ...
And here is a picture of me wearing the eyeshadows, woot! I believe this was Corpsicle on the lid, Midnight Dreary on the outer crease, Grave Digger on the bottom and Flesh 'n' Bone on the inner tear ducts ... somewhere on there :)
With that said, I do wish Vandaleyez would come back someday! I really do enjoy the eyeshadows and I find myself using them almost everyday and on my clients for photoshoots and even on a wedding gig. It's a reliable eyeshadow quality and I think it has great potential if it were to take the next step. I also want to really thank Lissa for trusting me with her products and for sending them to me for review ~ I really enjoyed them and I think you should come back and keep progressing this company of yours! ;)
And thank YOU for reading and I apologize that this is all about something that, at the moment isn't in the market. It's just that I felt I should still write this review because I must share what I think about them and I promised a review back when these were sent to me :) Well for now, take care!
- Auds