I feel like I haven't done a product review in the longest time.
I did more product reviews back when I was first starting out on YouTube because a super clear camera wasn't needed and opinion was something anyone could always easily have & present. Soo this is my newest one in awhile!
I'm sure Oliveology found my "Miracle Products: Extra Virgin Olive Oil" video which is why they asked me to try it out. They already knew I had a thing for things based off (extra virgin) olive oil! x)
Here's the personal video I made a few months back. Keep in mind this is the pure formula that helped end my chronic acne. This is not to say I have perfect skin but trust me it's so much better than what it used to be. So much better. It has so many benefits! So of course I was up to trying this out.
It takes awhile getting used to because I think almost everyone is used to the creamy lather and foam of the traditional shaving cream. But this stuff is seriously smooth and slick for the skin which means, no cuts + instant moisturizer in the process! My guy friend in the video ~ he didn't even have to use after shave lotion.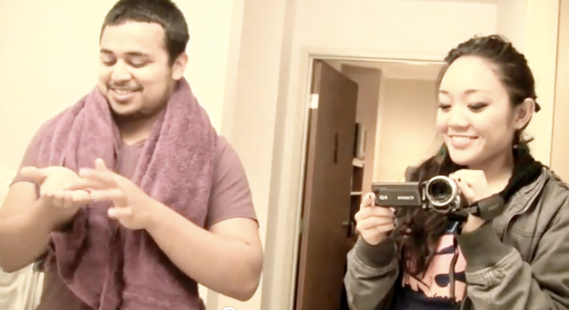 me filming my friend perform zeh shave test!
What's Good, What's Not?
CONS:
- you have to take some time getting used to not having foam to lather or scented shaving cream
- i would like a jumbo bottle for refills! xD
- unfortunately non eco-friendly, generic brands are always cheaper than the eco-friendly products
- as of now you can only buy online, not in stores
PROS
- it's 100% all natural ingredients!
- it's based off extra virgin olive oil & that ingredient alone has so many benefits for the skin
- it's cruelty-free, not tested on animals
- the bottle is (1) recyclable!
- it helps razor blades last longer
- some might not even have to use after-shave because it's so moisturizing
- long term benefits for smoother skin
- if you drop the bottle it won't break the dispenser like those pressured metal cans do
Anyway, the video is pretty long so I say everything & more over there.
But don't forget - if you decide you would like to try this out
type in "audfaced" at checkout for 20% off! :)
Pricing:
Individually, the small travel bottle is $5 the larger bottle is $12. I recommend value packs!
$5 - 2 fl oz
$12 - 8 fl oz